Company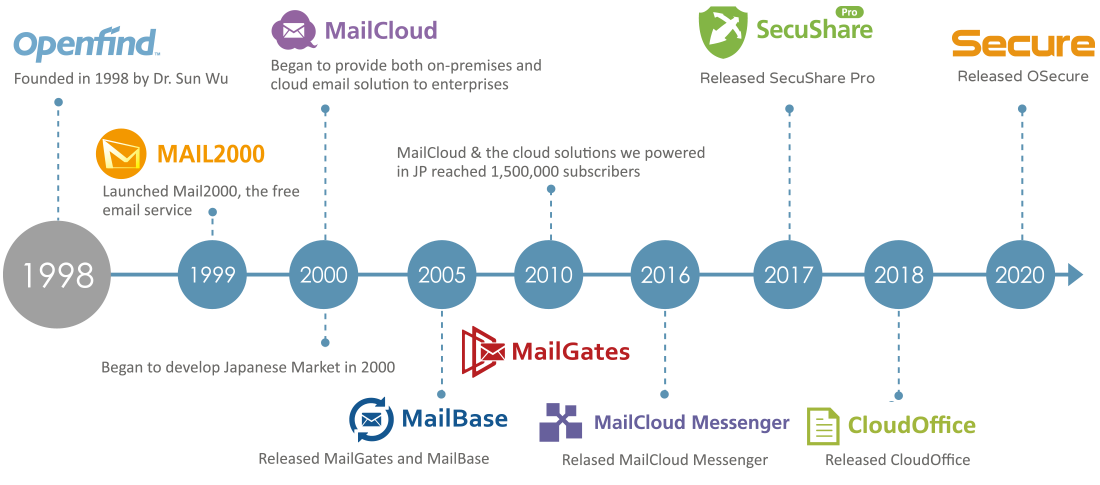 Openfind Information Technology Incorporated was founded by Dr. Sun Wu in 1998. Dr. Sun was famous then for his agrep search algorithm. Near the year 2000, with the powerful search engine technology, Openfind had provided the search engine for many big portals such as Yahoo!, MSN and Sina in Taiwan. During the first decade of this century, our company continuously invested a great deal of efforts in one technology: email.
Openfind launched a popular personal email service: Mail2000 in the year 1998, once it had 150,000 free users and now still has 20,000 paid users. Since 2000, the enterprises in Asia can also adopt Openfind's on-premises or SaaS email solution. MailCloud is the brand of Openfind enterprise email solutions. We also began to cooperate with the value-added distributor in Japan, Cybersolutions, in 2000.
Starting from the year 2004, the importance of email security has been broadly recognized. And later, along with the laws like Sarbanes–Oxley the SOX and HIPPA, enterprises found that email archiving is important. So we've also developed lines of product to satisfy the market demands. In 2005, Openfind released both the first version of email security gateway, MailGates, and the email archiving system, MailBase. With the comprehensive solutions for communication and information management, we've achieved exceptional reputation over Japan and Greater China.
These years we've also extended our solutions to collaboration, in 2014 we've released an enterprise file synchronization and sharing, an EFSS solution named ArkEase Pro. All of our solutions can be seamlessly integrated together to help our customers build their ideal digital workplace.